THINGS WE WOULD LOVE TO SHARE WITH YOU
There is always something going on in equestrian sports. We would like to share with you the news about the performance of our horses and what is happening within our company. Like many people who love horses, we are not fond of computers and everything that comes with it. We hope that you will forgive us if we are sometimes a little late in posting the news or perhaps forget it altogether. Our horses are everything to us and they will always be our first priority.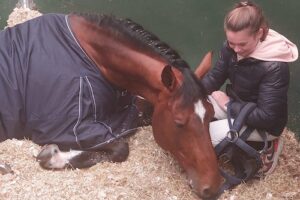 Recently the scholars won bronze in the Belgian Nations Cup. In the team: Estelle Van Tricht with Don't Touch Tiji Hero, who has become her best friend. Our daughter Estelle is 13 and has been riding horses for a year and a half now, with Furmint, Highlife 25, Ferra vd Bisschop and now our stallion Don't Touch has been added.
Read more