On behalf of Sea Coast Don't Touch Tiji Hero: thanks hundreds of times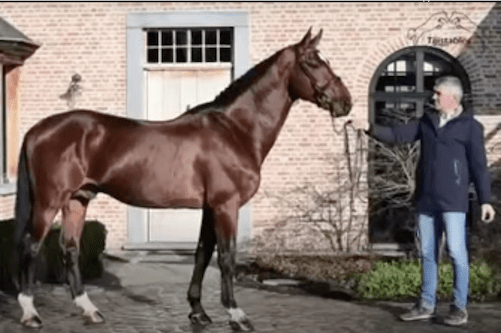 He insisted, it is therefore in his name that we would like to thank all the breeders for their trust and their fine taste in choosing Sea Coast Don't Touch Tiji Hero. The sport stallion returned to his birthplace late last year where he began a new life as a breeding stallion. And boy is he happy about that. We had absolutely no idea how Don't Touch would be received. Your reactions exceeded our wildest expectations. The demand was overwhelming, much to the satisfaction of everyone and not least Don't Touch. It is completely logical when you look at the relationship between his offspring and results in the sport.  
The deal between Sea Coast Stables and Tiji Stabes came about because Don't Touch is close to both our hearts and because his genes are so valuable that he is an undeniable asset to breeding. It is an opinion that was shared by hundreds of breeders this season, for which we thank you! You made a conscious choice and everything points to Sea Coast Don't Touch Tiji Hero being a good sire.
7 x Don't Touch at the WC
For that, we base ourselves on the results in the ring and they don't lie. At the World Young Horse Championships in Zangersheide, no fewer than 7 offspring of Don't Touch jumped. The highlight was of course the silver medal of Dourkan Hero Z (Christian Ahlmann). Gilles Thomas got one pole in that final with Puskas de Kalvarie. Moneypenny from Karel Cox's stable became champion in Spain this year. Final Touch de Tiji jumped the WC with Simon Prouvé.
Among the six-year-olds, we saw Do You Do Du Seigneur Z with Christian Ahlmann, who bought him as a foal at the Z Quality Auction for €27,000.
Approved stallions, expensive foals, a vice world champion.....and one provider: Sea Coast Don't Touch Tiji Hero. Most remarkably, Don't Touch did not breed during his sporting career. Don't Touch's oldest offspring are eight years old and that's not going to be more than five. If we link back to six and seven-year-olds, there are not going to be more than 50 in total. Of those, seven are jumping at the World Cup. And not only the seven-year-old champion of Spain, also the champion of Italy, D-Day van de Keihoeve, is a son of Don't Touch.
If we go further back in time, the BK for 7-year-olds featured two Don't Touch offspring in the final, with Prianti de Tiji finishing seventh.
We have obviously used Sea Coast Don't Touch Tiji Hero a lot ourselves. Next year, we expect about 15 of them, six were born this year. Our last Sea Coast Don't Touch Tiji Hero happened to be born during the Brussels Stephex Masters, out of Zeta Di Sabuci by Zoé Conter.
It is already clear that Sea Coast Don't Touch Tiji Hero is making his mark in the sport. This is true for the young horses and it is no coincidence. Don't Touch and five-star horse Akarad Hero Z from Jos Lansink's stable are both out of China Touch Hero (Chin Chin). She is a daughter of Laska III. Her son Gracieux du Pachis (Tinka's Boy) wins a lot with Julien Epaillard. By the way, his full brother is Tinka's Hero Z who jumps 5* with Simon Delestre. Good blood does not lie and certainly not when you look at Don't Touch.