New life at Tiji…sustainable quality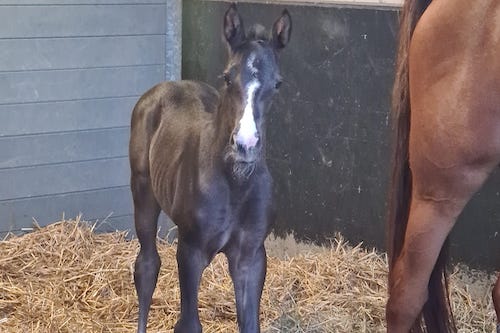 We are about halfway through our 2022 batch and have already welcomed some fine fine foals. Over the past decades and years, we have collected some carefully selected maternal lines in our Tiji breeding going back to, among others, the Olympic mare Carlina IV (Pius Schwizer), via Vallonia de Reville (Kannan), the former sport mare of Nicola Philippaerts, and her dam Rianne du Briot (Non Stop x Carlina IV). Another line comes from the Heartbreaker dam Nell D'Hoogpoort. And then there is the line from the Roosakker via Elektra Hero Z (Elvis ter Putte) and her Daughter Romesse de Tiji. Another important bloodline comes from the 'Seigneur' breeding via Talitha de Tiji and Oklahoma vd Withoeve Z out of the mother Dourgana Hero Z. In our breeding we strive for durable quality whereby we make well-considered choices and combinations with a focus on the development of a future sport horse. The majority is trained at home, which implies that we know our mothers and (great) grandmothers very well. That makes us able to assess our lines adequately and know what we need to improve.
Sea Coast Don't Touch Tiji Hero
Of course, we have made frequent use of our stallion Sea Coast Don't Touch Tiji Hero who has now proven to be a full-fledged sire. He is the sire of a foal out of a 3-year-old El Barone 111 Z (Emerald x Libero H) dam and she is the daughter of Nell D'hoogpoort (Heartbreaker) on which Jill Smits jumped 1.50m courses. Nell is also the grandmother of our stallion Dr Touch de Tiji (Don't Touch Tiji Hero x Calvaro Z). Nell D'Hoogpoort gave several foals this year, among others in combination with Grandorado TN (Eldorado vd Zeshoek), who jumped a clear Nations Cup in Rotterdam with Willem Greve in June. Another foal by Nell has Tornedo (Darco x Ramiro Z) as a sire. We know Tornedo from the international sport with Michael Whitaker and we chose him for his scope. That fits our Heartbreaker mare Nell.
From Orson des Hayettes (Mozart des Hayettes), who jumped internationally with Gudrun Patteet and Simon Prouvé, we have three foals. One out of the Stephex mare Nic Nac, a daughter of Montender out of Uberlina K (Lux Z). Another Orson is out of a granddaughter of Panama du Seigneur. The third is from our three-year-old mare Tapdance de Tiji, by Pegase van 't Ruytershof out of Karlina de Tiji and she is a combination of Don't Touch x Vallonia de Reville (Kannan x Nonstop).
Our mare Dallonia de Tiji Z, half-sister of Vallonia and granddaughter of the Olympic Carlina IV, gave birth to a foal with Levis de Muze (Elvis ter Putte out of Heroin de Muze) and All Star by Denis Lynch. Dallonia has a lot of blood and technique, and the imposing scope of Levis and All Star (Argentinus x Almé Z) matches that. And that seems to be a good match.
The dam of our Romesse de Tiji (Don't Touch) is Elektra Hero Z, granddaughter of Electra van 't Roosakker. For her we chose Commander HK (Comme Il Faut x Emerald), Tornedo FCS and Diablue PS (Diaron x Stakkato), a promising young stallion from Paul Schockemöhle that we also used in combination with Talitha de Tiji and she is a three-year-old daughter of Joker du Seigneur (Don't Touch) out of Scarlina de Tiji.
From the collaboration with Stephex we have, besides Nic Nac and Uberlina, also three foals from the international jumping Zeta di Sabuci (Kannan), in combination with Dr Touch and twice Don't Touch.
With Niels Bruynseels we have a colt by Cumano out of the 1.50m jumping Anita du Park (Quick Star x Kannan) and we bought her as an embryo at Stal Optimus.
What we are also particularly proud of is a foal by Scendro (Scendix) out of Superlina de Tiji (Don't Touch by Rianne du Briot) and she looks like two drops of water on Scarlina de Tiji, her three fourth sister.
These first foals all make us dream and hope....