Hundreds of heartfelt thank yous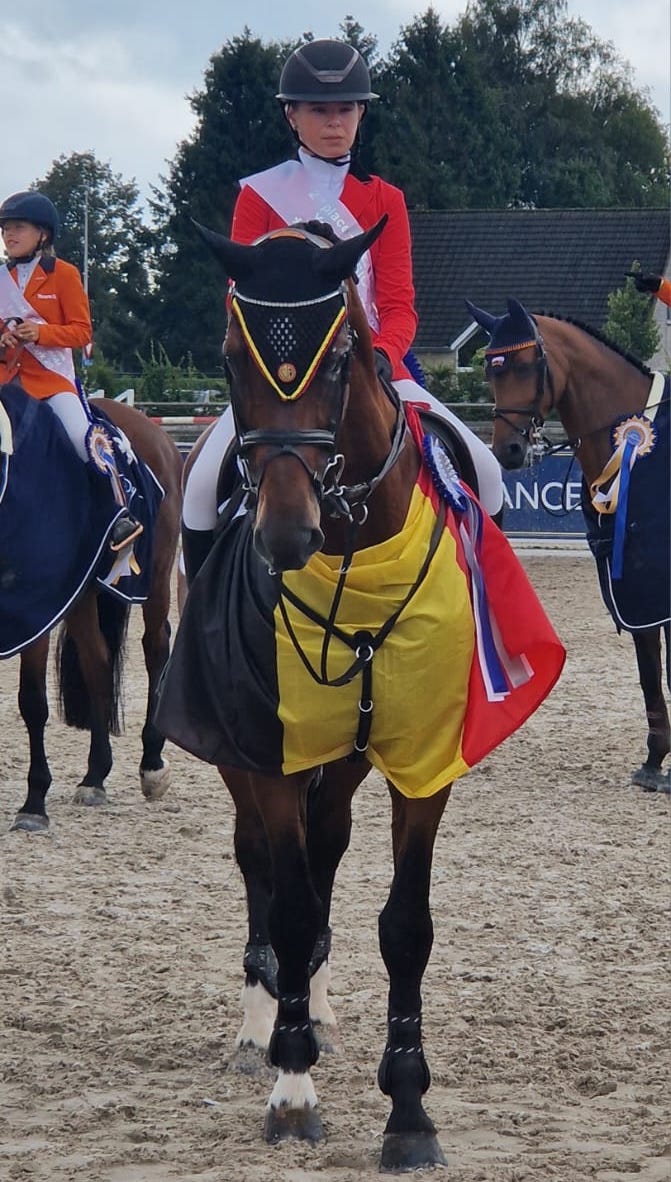 We say and write it in the name of Don't Touch Tiji Hero: thank you to all breeders who chose Don't Touch this year.
A son of Diamant de Semilly out of China Touch Hero (Chin Chin x Caretino), Don't Touch Tiji Hero is genetically one of the most valuable studs of his generation. His offspring confirm his status and this has not slipped past breeders.
Last year, Don't Touch Tiji Hero was main supplier of the World Championships at Zangersheide with seven offspring. His seven-year-old son Dourkan Hero Z became vice world champion with Christian Ahlmann.
This year, the seven-year-old Diamond Touch finished sixth at the WC with Jérôme Guery. Diamond Touch is the full sister of Don't Touch. His seven-year-old son Do You Du Seigneur Z also made the final, but was sold during the World Championships and consequently did not jump the final.
Recently in Barcelona, Belgian champion Gilles Thomas jumped the barely eight-year-old Puskas de Kalvarie (Don't Touch Tiji Hero x For Pleasure) to a second place in his first 5*.
As a promising six-year-old, Don't Touch Tiji Hero moved to the stables of Sea Coast, where a successful sporting career awaited him. During that period, Don't Touch did not breed for several years, which explains why there are no four-, five- and six-year-old offspring. The sport was given absolute priority. An injury decided otherwise and so Don't Touch Tiji Hero returned to Tiji Stables, his birthplace. Being too valuable for breeders, Don't Touch Tiji Hero became a breeding stallion.
At the time, we had no idea how the breeders would react. Massively so it turns out. We cannot thank the breeders enough for their trust, good taste and justified choice. This exceeds our wildest expectations. That merit lies with Don't Touch and his offspring who stand out on the international circuit.
Top international stables
Don't Touch and his limited offspring has clearly made a lasting impression. Irish Olympic rider Marion Hughes and her compatriot Greg Broderick are breeders and suppliers of world champions at Zangersheide. They are the driving force behind Irish breeding and are expecting several sons and daughters of Don't Touch next year.
Willem Greve, Marc Houtzager and Johan Heins also chose Don't Touch Tiji Hero this year. In Belgium, he was in demand by Pommex and Krismar, among others. Axel Verlooy's Euro Horse also reserved its best mares, such as Walnut de Muze and Jacobien DH, for Don't Touch. Vice-world champion Jérôme Guery and Marlon Zanotelli are also big fans; they had several mares covered by Don't Touch. Even in France, he is sought-after and in demand. Bruno Broucqsault, for example, had some of his mares serviced by Don't Touch.
Currently, Don't Touch Tiji Hero is in quarantine to meet the medical requirements for the Americas, which he is quietly conquering as well. Indeed, demand is high from Argentina through La Silla in Mexico along USA to Canada.
Family horse
Don't Touch Tiji Hero is having the time of his life. As a stud and family horse. Our daughter Estelle is 14 and jumps at school level. She is doing so with Don't Touch, who is so well behaved and rideable that he takes the young rider over the obstacles with panache and pleasure. She even jumped her first 1.40m classes in the juniors with him this year, at the Brussels Stephex Masters. As a parent, you want horse riding to be especially fun for your daughter. And you certainly don't want to take any risks. That is why we rely on Don't Touch Tiji Hero. During the breeding season, we keep him conditionally fit. Estelle rode him in country prizes in the schooling competitions and Tim goes hiking with him. Tim didn't ride for years. Until Don't Touch came to the stables. Now when we go for walks with the family in the woods or by the sea, Tim saddles Don't Touch, he has become his walking horse. And so Don't Touch Tiji Hero became not only a coveted stud. At home, he became a much-loved family horse.