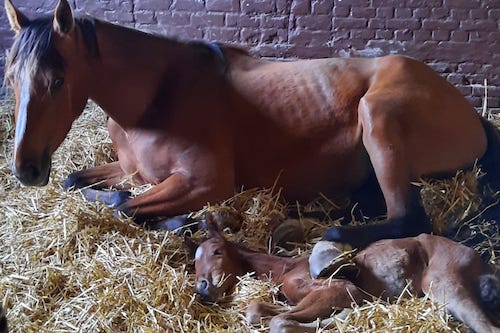 We welcomed 17 foals this year. Less than expected, nature decided. Of course, we used Don't Touch de Tiji and his son Dr Touch de Tiji. New this year is the collaboration with Stephex. Tim works there as a blacksmith, among others for Zeta Di Sabuci (Kannan), with whom Zoé Conter won gold and bronze at the junior EC in Millstreet. Later Zeta became the first five-star horse of Zoé Conter. Pommex, the Stephex breeding farm, is situated in Normandy. As a rule the sport mares go there for breeding after their career. Zeta was sensitive about that with Zoé. Therefore, it was decided that Zeta would stay closer to home. Thus arose the collaboration between Stephex and Tiji and this year it resulted in Vendetta De Tijix, a filly by Don't Touch Tiji Hero out of Zeta Di Sabuci.
Another interesting foal this year is Viavia de Tiji, a daughter of Don't Touch Tiji Hero out of Nell d'Hoogpoort (Heartbreaker).
Versailles de Tiji, by Dr Touch de Tiji out of Scarlina de Tiji, with whom Niels Bruynseels recently jumped the final at the World Championships for Young Horses at Zangersheide, also looks very promising.