Sea Coast Don't Touch Tiji Hero to be exploited as a breeding stallion by Jill and Tim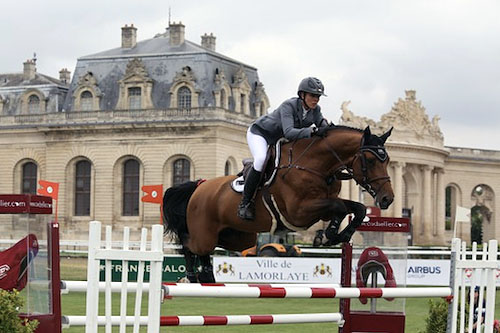 Sea Coast Don't Touch Tiji Hero returns to his birthplace, Tiji Stables, and will be used as a breeding stallion by Jill Smits and Tim Van Tricht. Don't Touch is a son of Diamant de Semilly out of China Touh Hero (Chin Chin x Caretino) and she is also the mother of Akarad Hero Z (Aganix du Seigneur), the 5-star GP horse of Pieter Clemens from the stables of Jos Lansink. Don't Touch is the sire of the young stallion Dourkan Hero Z, by Zinka de Kalvarie Z (Zandor Z x Calvaro Z) who was purchased by Zangersheide and is trained by Christian Ahlmann. Don't Touch has another promising son: the 6-yr-old Dr Touch de Tiji, out of Dune D'Hoogpoort (Calvaro Z x Heartbreaker), who is half-owned by Niels Bruynseels and who recently jumped his first competition with him.
The references of Sea Coast Don't Touch Tiji Hero are sought after by the world's best riders. It is striking that his small offspring is already proving their worth. Don't Touch was sold to Sea Coast as a five year old and came in the hands of Gudrun Patteet, who gave preference to the sport. In the years that followed, Sea Coast Don't Touch Tiji Hero became exclusively a sport stallion. He had a very promising career, but an injury followed by an unsuccessful operation ruined it.
Because we want to share the exceptional genes of Sea Coast Don't Touch Tiji Hero with the breeders, it was decided in consultation with Sea Coast that Don't Touch will return to Tiji Stables, where he will be offered as a breeding stallion.
Jill Smits has trained hundreds of young horses. Some of them will always remain on her mind, like Sea Coast Don't Touch Tiji Hero who stands out: 'they are scarce, the horses that leave an indelible impression. Don't Touch is such a horse. I took him under the saddle as a four-year-old and remember calling Tim immediately: I'm sitting on something phenomenal. Never before have I had such a feeling on a horse. As a general rule, Tim is the breeder. After my introduction to Don't Touch, I said that we would cover all our mares with Don't Touch. I have a long track record, I have trained many horses at professional stables. I don't want to degrade any horse, although Don't Touch is by far the best horse I have ridden. A stallion with a velvet mouth who carries himself naturally on his own strength. A pure natural talent.
Tim is not a rider at all, but the favourite activity that he did and will do again is walking in the sea with Don't Touch. It makes them both feel better. We are all going to enjoy it and thank Sea Coast for giving us this opportunity.