HK BWP: 35 jumping stallions approved, reserve champion to Nijhof and Van den Oetelaar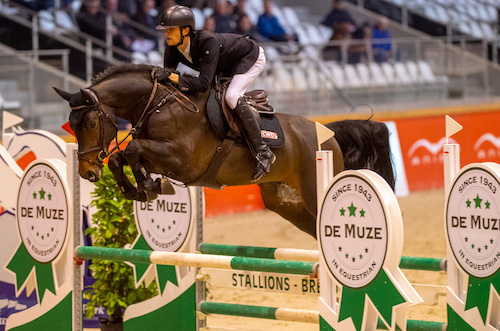 The BWP Stallion Selection Committee today added 30 three- and four-year-old and five older stallions to the pile. Diamanthina's grandson cat.nr 6 Pegase van 't Ruytershof (Comme il faut x Cartani x Diamant de Semilly) was crowned champion. As reserve champion cat.nr 41 Poker de Mariposa (Nabab de Reve x Berlin x For Pleasure), the grandson of Flora de Mariposa, was brought forward. The latter is since last weekend for half of Team Nijhof and Kees van den Oetelaar, the duo that comes to the Netherlands with six approved stallions.
Truly sublime bred stallions, who in real life can also live up to that promise on paper. This is a rarity. In this vintage of the BWP there were several stallions for the jury that combined these two things. Three of these exceptionally bred stallions won the championship ring. The champion title went to Pegase van 't Ruytershof, Emerald van 't Ruytershof's nephew. This stallion was bred by Bert van den Branden and is registered to Stal 't Ruytershof and Erik de Winter.
Source: https://www.horses.nl/fokkerij/hk-bwp-30-springhengsten-goedgekeurd-reservekampioen-naar-nijhof-en-van-den-oetelaar/