Omano BC to Jeroen De Winter!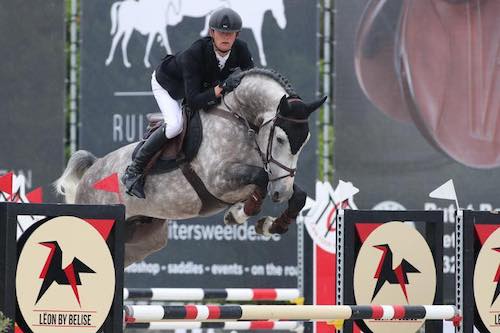 In recent years Jeroen De Winter has specialised in the training and release of young stallions. Think of Leandro VG (Gitano van Berckenbroek) and Nixon van 't Meulenhof (Denzel van 't Meulenhof), with whom he last year in the PAVO Stallion Competition managed to win the final ranking in both the 7-year-olds and the 5-year-olds. This year the Antwerper is again strong in the PAVO Stallion Competition and he is impressed with the 4-year-old Pegase Van 't Ruytershof (Comme Il Faut 5).
These good results have led to the fact that Tom Grossman and Chris Larmee Sallee of the Blue Chip Farm have given him the 5-year-old stallion Omano BC. Omano BC, who was bred in the United States, has a pedigree to tell you. To start with, he is a son of Cumano, the grey stallion who became World Champion in Aachen in 2006 under the saddle of Jos Lansink. The mother of Omano BC is the mare Sapphire, the Darco mare who has won many international competitions under McLain Ward. In 2004 and 2008 they won team gold at the Olympic Games and they were also the best in the five star Grand Prix of La Baule, Rome and Calgary.
De Winter will now continue to train the stallion and he will also be available for breeding at Het Netehof this year.
Source: https://www.galop.be/nieuws/27493/omano-bc-naar-jeroen-de-winter